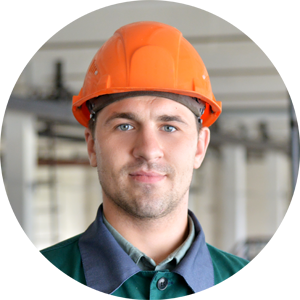 Anton Limonov
Water Supply and Sewerage Shop Repair Supervisor
at the PJSC «Omsky kauchuk»
In 2015 Anton graduated from Omsk State Agrarian University (OmSAU) with a degree in «Environmental Protection and Landscaping». Soon after graduation, he was employed at the Water Supply and Sewerage Shop of the PJSC «Omsky kauchuk» as a Grade 4 Repair Man. In one year and eight months, Anton Limonov was already conferred the highest Grade 6, and in 2018 he became the Water Supply and Sewerage Shop Repair Supervisor.
«I graduated from the university with a degree in "Environmental Protection and Landscaping», however, my faculty was related to water use, so the general specialization corresponded with the job. I learned about the vacancy at the PJSC «Omsky Kauchuk» from my classmate who was working here already and passed the interview. I got interested in the profession at once and talked a lot with my colleagues – experienced technicians – trying to keep closer to the most competent specialists. Among mentors, I can point out technicians Yevgeny Klishin and Valery Pitsevich», our Supervisor told us.
As of today, Anton Limonov has almost four years of work experience. Over this time, he has grown from a young specialist who only learned how to disassemble and assemble instruments, change oil, and cope with maintenance repair to a professional who can on his own align the pump or perform turnaround maintenance of complex equipment.
According to Anton, any manager always sees who can be assigned with a complex work, and it is not superfluous to show initiative in this regard. Moreover, to build a successful career, it is important to be fond of one's work: «Equipment in our shop is continuously renovated, and for me this means new tasks and the opportunity to learn something new for professional development», the hero of our column reported.
Additionally, Anton Limonov goes in for sports – in 2016-2017, he participated in Spartakiads as part of his shop's football team.